W.A.D.E.R.S. – Water Assisted Disabled Exercise & Rehabilitation Scheme
W.A.D.E.R.S. – Water Assisted Disabled Exercise & Rehabilitation Scheme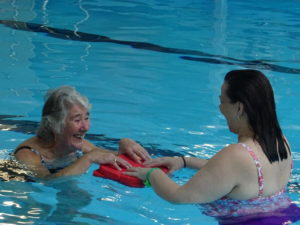 Waders offers exercise in water for people with physical difficulties.
Whether your problem is neurological (eg MS), orthopaedic (eg fracture, joint replacement) or rheumatic (eg arthritis, fibromyalgia, CRPS) in origin, it is likely that you will benefit from exercise in water. Bouyancy enables you to perform activities which are often difficult or painful on dry land.
We currently offer several sessions a week across three pools supervised by a qualified Aquatic Physiotherapist.
Tuesday 7.30pm-8.30pm
SwimMania Pool, Laindon
Just under 4ft deep all over

Tuesday 8.00pm-9.00pm
Blackshots Teaching Pool
3ft deep all over
Friday 11.00am-11.45pm Gentle
Friday 11.45pm-12.30pm Gentle
Friday 12.30pm-1.15pm More Challenging
Corringham Swimming Pool
Depth starts 3ft slowly sloping deeper
Please telephone before attending your first session so you know what to expect and because times and physio do sometimes change.
Kay-Anne 07899 745020 (All pools),
Daphne 01375 374322 (Blackshots), Sandra 07939 202169 (Corringham),
Julia 07968 751083 (Corringham).
Who to contact
Contact Name

Kay-Anne 07899 745020

Website

Scan to visit this website
Last Updated
Last updated: 12/11/2019
Skip back to

top of page
Feedback